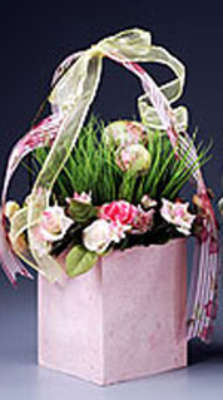 Click image to resize.
Easter Arrangement
STYROFOAM™ Brand Foam:
Cube, 5"
Eggs: one 2"; two 1-1/2"
Other Materials:
Paper: pastel/multi-floral tissue, one sheet; scrapbook papers of choice, two 12" x 12" sheets (Provo Craft® Scrap Pads™ #40-1476, #40-1478 and #40-1448 were used here)
Florals: green grass, two bunches; pink mini roses with leaves, 12; yellow mini roses with leaves, six; small pink filler flowers, six; bright green reindeer moss, one bag
Brown paper-covered wire
Ribbon: pink/floral organza, 1-3/8" x 5/6 yd.; sheer yellow wire-edged, 7/8" x 1-1/2 yd.
Serrated knife
Candle stub or paraffin
Pencil
Ruler
Wooden skewers, 6", three
Small disposable bowl
Plastic spoon
Water basin
Paper towels
Waxed paper
Scissors
Wire cutters
Long-nose pliers
Bone folder
Low-temp glue gun and glue sticks
Thick, white craft glue
Eggs
Instructions

1. Tear tissue paper into several approximately 2" pieces.
2. Mix one part white glue with two parts water in disposable bowl. If desired, put on gloves.

3. Dip one tissue piece into glue/water mixture and then smooth onto surface of foam egg. Continue until egg is completely covered, allowing tissue pieces to wrinkle and overlap. Repeat for all eggs. Place eggs on waxed paper to dry overnight or use dryer.
4. Use glue gun to glue one end of skewer into side of each egg for "stems".
Basket
1. Wax serrated knife with candle stub or paraffin. Use knife to cut 1" border into top of foam cube. Remove foam inside border to a depth of 1".
2. Cut one 24" length from wire and form into rounded handle. Glue handle ends into opposite corners at top of cube.
3. Choose paper(s) to cover cube; designer chose one predominantly green, one yellow and one pink pattern as shown here. Cut two 6" x 12" strips and one 5" square from desired paper for each basket.
4. Carefully wrap each 6" x 12" strip around sides of cube, overlapping excess on opposite corners; gently finger crease corners. Remove paper and crease folds with bone folder. Use white glue to adhere paper to cube; hold in place until glue sets. Glue 5" paper square to bottom of cube; let dry.
5. Trim grass stems as needed and glue into top of basket. Use glue gun to glue small clumps of moss around grass bunches, filling gaps between grass and paper. Trim flower stems and glue into top of basket around edges, between grass and paper.
6. Loosely wrap pink ribbon length around wire handle. Cut ribbon ends in a "v." Tie center of yellow ribbon length into loopy bow around center of handle. Finger curl ribbon streamers; cut ribbon ends in a "v." Spot glue ribbon to arrangement to secure.

Projects by STYROFOAM™ Brand Foam
Designed by: Diane D. Flowers