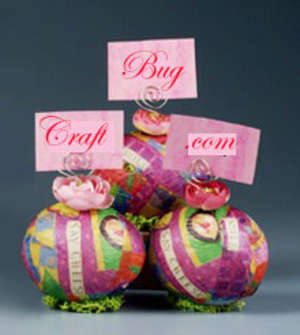 Click image to resize.
Easter Place Card Holder
STYROFOAM™ Brand Foam:
Egg, 3"
Other Materials:
Mini pink/yellow ranunculus
Bright green reindeer moss, small amount
Silver craft wire, 20-gauge
Paper, one sheet each: bright pink/multi-floral print tissue; pink card stock
Fine-line black permanent marker
Ruler
Small disposable bowl
Plastic spoon
Water basin
Paper towels
Waxed paper
Scissors
Wire cutters
Long-nose pliers
Low-temp glue gun and glue sticks
Thick, white craft glue
Optional: disposable gloves; hair dryer
Instructions
1. Tear tissue paper into several approximately 2" pieces.
2. Mix one part white glue with two parts water in disposable bowl. If desired, put on gloves.

3. Dip one tissue piece into glue/water mixture and then smooth onto surface of foam egg. Continue until egg is completely covered, allowing tissue pieces to wrinkle and overlap. Repeat for all eggs. Place eggs on waxed paper to dry overnight or use hair dryer.
4. Cut 7" length from wire. Bend one end into tight spiral using pliers, leaving opposite end straight.
5. Glue flower to center side of egg as shown. Glue straight wire end into egg through flower center. With flower at top, glue small pieces of moss around base of egg to support it in upright position.
6. Cut place card of desired size from card stock. Write name on card and insert into wire spiral.

Projects by STYROFOAM™ Brand Foam
Designed by: Diane D. Flowers