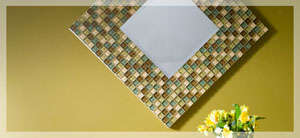 Click image to resize.
Tile Mirror
Project Lowes Creative Ideas
Step-by-Step Instructions
1. Prime and spray-paint a sheet of plywood; we used beige. This color will peek through the lines between the glass tiles. Allow each coat to dry.
2. Cut the 12-inch-square mosaic sheets in half. Place a mirror tile in the center of the plywood. Lay the 6- x 12-inch mosaic strips around the mirror tile to form a 6-inch-wide border, adjusting until the glass tile lines are aligned with the mirror tile.
3. Carefully remove the mirror tile, and apply mirror adhesive to the back.
4. Attach the mirror tile; allow adhesive to dry per the manufacturer's instructions.
5. Use clear adhesive to attach the mosaic strips around the mirror, making sure to keep the lines straight. Wipe away excess, and allow adhesive to dry according to the manufacturer's instructions.
6. Attach large ring hangers (in the frame back assortment kit) to the back, making sure not to screw through the wood into the tile. Hang the piece using expandable wall anchors mounted to wall studs.

Skill level: Beginner
Rough cost estimate: $100*
Rough time estimate: 1 day
Lowe's List
Materials
•3 sheets of glass mosaic tile (12-inch-square, American Olean, River Bank, #302913)
•1 sheet of plywood, ½-inch x 2- x 2-foot**
•spray primer (Valspar, #282324)
•spray paint (Valspar, Porcelain, #282281)
•1 package of polished-edge mirror tiles (12-inch-square, #197427)
•universal adhesive (clear, #236670)
•Mirror Mastic adhesive (#197438)
•frame assortment kit (#264407)
•expandable screw-in wall anchors (#203070)
•screws appropriate for your wall type
Tools
•caulk gun
•screwdriver
•utility scissors
*Does not include applicable taxes, which vary by market, or the cost of tools. Pricing for commodity items may vary due to market conditions.
**Availability varies by market for lumber species and sizes.