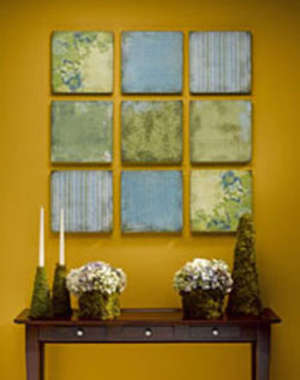 Click image to resize.
Wall Decor
STYROFOAM™ Brand Foam:
1" x 12" x 36" sheet, three
Other Materials:
Scrapbook paper: 12" x 12", nine sheets
Ribbon, 1" x 12 yds.
Ruler
Sharp pencil
Serrated knife and old candle; or, dental floss
Thick, white craft glue
Straight pins (optional)
Sawtooth picture hangers, nine
Instructions
1. Using ruler and pencil, score foam sheet to create three, 12" x 12" squares. Wax serrated knife with an old candle. Holding foam sheet firmly on a flat surface, extend one end and cut across score line, using knife like a saw. Or, try dental floss: stand the sheet on its edge, and hold a 20" length of dental floss along the scored line, positioning one hand at the bottom of the board and the other at the top; draw the dental floss down through the foam sheet along the scored line. Repeat with remaining two foam sheets.
2. Spread white craft glue on foam square, center 12" x 12" paper, and adhere to foam. Repeat, covering all foam squares.

3. Pin or glue ribbon around edges.
4. Glue sawtooth picture hanger to back. For additional hold, insert and glue two straight pins through holes in sawtooth picture hanger.
5. Let dry before hanging.


Projects by STYROFOAM™ Brand Foam